Chris Williams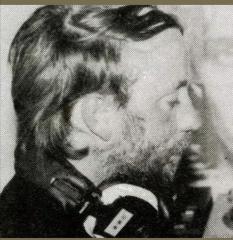 Chris Williams - Chris was born in Copenhagen, far too long ago. A restless man with itchy feet and a complex career, he has lived and worked in Belgium, Germany, the Netherlands, France - and Wales, and has travelled throughout the continent. Life in Europe has given Chris a life-long interest in all kinds of music, ranging from 70's rock to European dance & disco. His favourite music varies day to day, but Indochine, Placebo & ELO compete constantly with CC Catch, Sandra and the Goombay Dance Band. In short, anything with a beat, energy and a tune gets Chris's vote of confidence.

Chris's first dalliance into radio was in 1980, with University Radio in south Wales. Since then, he has broadcast, whenever possible, on numerous RSLs such as Offshore 1584, ELR, Carolina, Radio London, BigL, Thurrock Community Radio and community stations in Harlow & Pitsea, Essex, plus on FM stations in East London, Essex & Suffolk. Chris loves nothing other than energetic radio and audience interaction, and this is reflected in his programs. Look out for his current shows, 'EuroBeat'- and 'The Wall of Sound,' and his cover shows on Big L!
Danish DJ. English accent. Lives in France. Chris has eclectic tastes. He loves classic rock, European tunes & anything with an uplifting beat! Tune in and enjoy!